Great Times in Galway
April 2019 / 4abc / E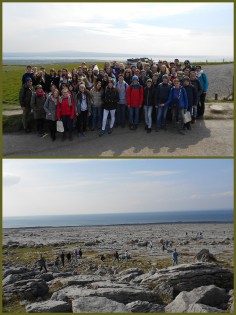 This year's trip was a bit different than every trip before. It was a trip into the unknown because most of the students and teachers had never been to Ireland before. Class 4abc had a whole new island to explore but we spent most of the time in a lovely city called Galway. Many students' favorite experience was the trip to the Cliffs of Moher. Fortunately, we had sunny weather, which is not that usual in Ireland; the view was fantastic and stunning.
We also spent some time in the famous capital Dublin where we could see the University and the world famous pub, the Temple Bar.
Many students used their free time in Galway to go shopping or listen to the local buskers (street musicians). The daily trip to school and the courses with the lovely teachers were some of my personal highlights. To be honest, every day in Galway was a new adventure for most of the students and teachers.
The seaside of Galway is a bit windy and cold but still very beautiful! Also, our trip to a shepherd's farm and the Connemara National Park was really exciting; everyone loved the puppies and sheep. It was really interesting that somebody can train his dog to watch and keep the sheep safe, but the awesome landscape was totally the highlight of the day. Thank you to the teachers, who were in charge of planning and organizing this unforgettable adventure!
(Text:Pia Hartl, 4a)
(Fotos: Cedric Bauer, 4a)