Typically British!
Februar 2018 / 1a / Englisch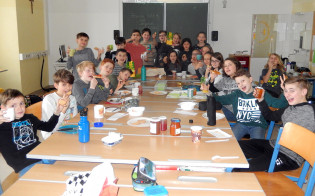 To culinarily conclude the first semester at our school, 1a students gathered together in the final English lesson to taste some typically British breakfast ingredients. There was a great choice of different stuff ranging from real English marmalade, salted butter, peanut butter to English tea with milk and, last but not least, baked beans on toast. Unexpectedly,
the baked beans were quite a success and one tin was definitely not enough. A number of students brought their own homemade jam which tasted delicious. Felix Hartl also let us taste some English biscuits such as cookies and shortbread imported on a trip to England by his dad. Thanks a lot! Unfortunately, the lesson was much too short and the following German class began with quite a few crumbs on the floor and mouths full of marmalade and peanut butter.